No trip to Bali is complete without at least one Nasi Goreng for lunch or dinner. This legendary comfort meal has been regarded as one of the most delicious cuisines in the world alongside Beef Rendang. It is very easy to cook, yet it is so tasty despite the simple ingredients. You can make it as you wish too; seafood, vegetarian, vegan, any way you like. But, since we know how much you love the Nasi Goreng from our Padma Favourites menu (which has easily become one of our top selling dishes) in this blog, we would like to share our own recipe you can try at home with family during the self-quarantine.
Ps. Want to make it more fun? Why don't you create a mini cooking competition amongst the family members and get one lucky person to be the judge? 😉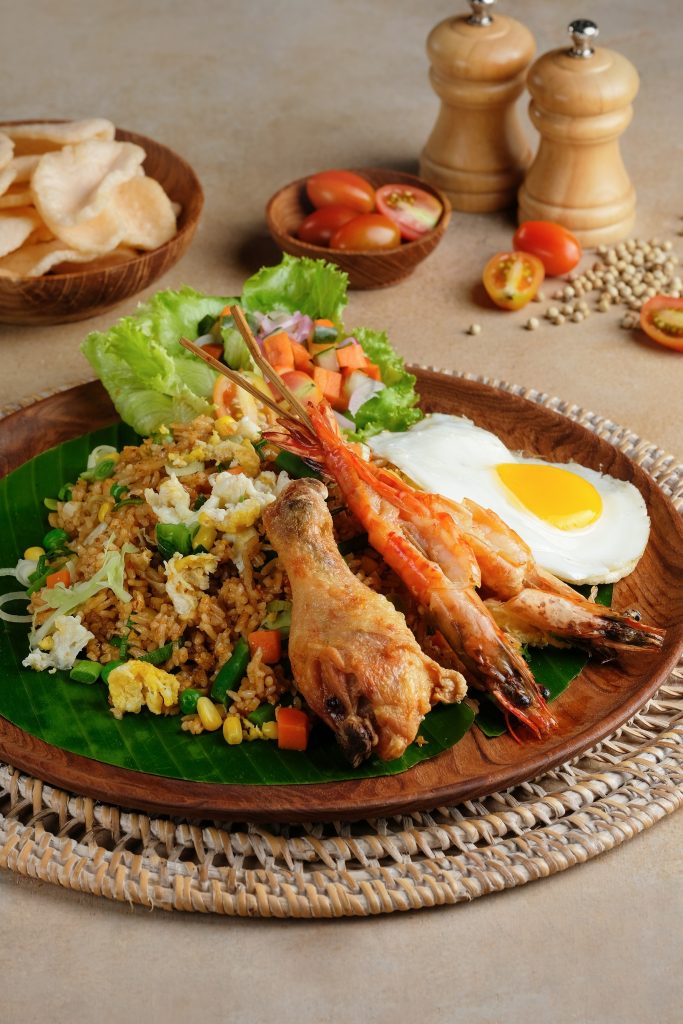 Nasi Goreng Padma
Ingredients:
3 tbsp Cooking Oil
75 gr Minced Chicken
10 gr Chopped Garlic
10 gr Chopped Lemongrass
10 gr Chopped Red Chilli
1 Egg
200 gr Steamed Rice
15 gr Shredded cabbage
10 gr Sliced Leek
1 1/2 tsp Oyster Sauce
1/2 tsp Fish Gravy
1 tsp Sesame Oil
1/2 tsp Salted Soya Sauce
0,5 gr Salt 0,5 gr Pepper
Garnish:
20 gr Vegetable Pickle
20 gr Sliced Cucumber
0.5 gr Deep Fried Shallot
Steps:
Chop garlic, lemon grass, and chilli

Pour some oil into the pan, and sautee the chopped ingredients

Add egg and chicken. Make sure the chicken is well cooked before you move on to the next step.

Season with oyster sauce, sesame oil, fish gravy, salted soya, salt and pepper

Add steamed rice, shredded cabbage, sliced leek and stir it until all mixed together and looks a bit brownish.

Serve immediately (it tastes the best when

hot)
If you have all of the ingredients, that would be great! But fear not, if you don't have an item or two, you can substitute with what you have in the kitchen to your liking, or make it the "Indo way" with well-done sunny side up on top, pickles, and prawn crackers (which we call, Nasi Goreng Spesial)
We hope it is close enough to your favourite Nasi Goreng at Padma Resort Legian. Please share your masterpiece on social media and don't forget to tag us. Happy cooking!