Little by little, a little becomes a lot
The earth is our home, and we need to take care of our home like we take care of ourselves. Very often, we think that our positive contributions to mother nature won't bring a huge impact – the earth is big, and we are only small. While in fact, every tiny action counts to make a difference in our community. All we need is to start, and to continously do it. We too, at Padma Resort Legian, feel responsible to start said small actions being one of the biggest resorts in the area. And what have we done so far? Here are some of our green innitiatives.
Padma X Sensatia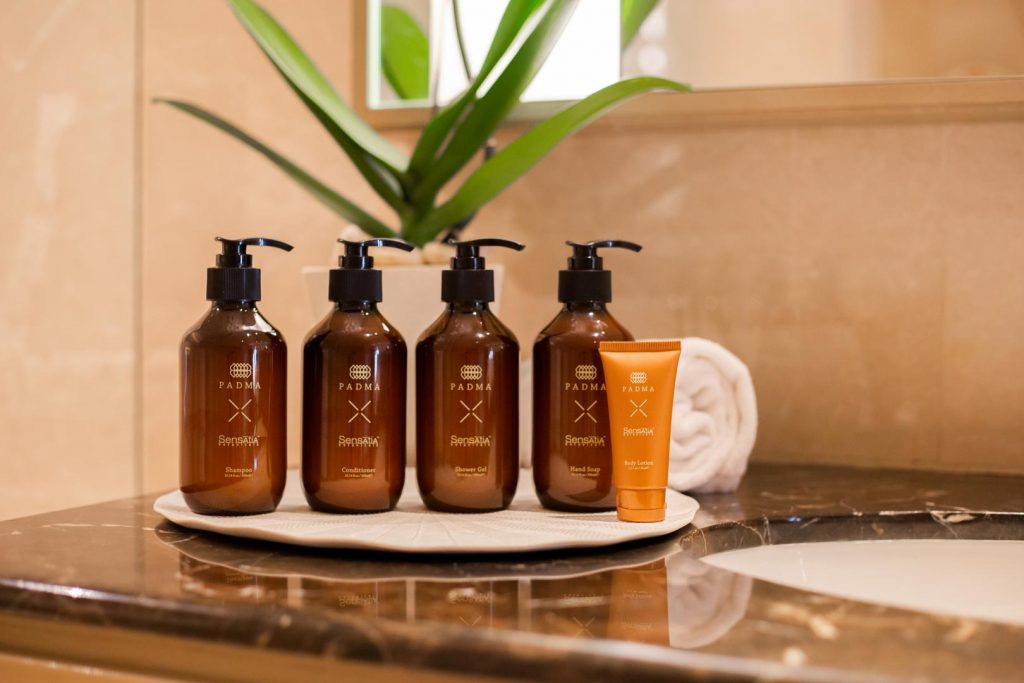 Last year in November, we started a collaboration with Sensatia Botanical, a beauty brand originated from Bali, Indonesia to provide our bath amenity products. We work together to create special fragrances that are exclusively crafted for our guests to evoke pleasant memories of their Padma experiences. We have replaced the previous mini plastic bottles with 300ml recyclable pump bottles of shower gel, shampoo, conditioner, and hand wash. With this new initiative, our goal is to reduce (and eventually eliminate) single-use plastic bottles in our room amenities. Since the start of this movement, we are proud to have reduced up to 80% plastic bottle waste from room amenities alone. These eco-friendly products come in our signature scents; Bergamot, Geranium, Lavender, Mint, and Eucalyptus and they are available for purchase at Sarasvati Design Store if you'd like to bring them home as Bali holiday keepsakes.
No Plastic Straw, Thank You!
The question we often ask ourselves, do we really need plastic straws to drink? As one of our efforts to keep our environment green, since the begining of last year, we have decided to join the "no plastic straw" movement following the Bali Government regulation to ban single-use plastic bags – that we truly support! As many of you may have seen going around the internet, plastic straws have awfully polluted our precious oceans and sea animals. So, if you can, we encourage you to not use plastic straws. But if you really really need it, we provide biodegradable straws upon request.
Fresh from The Garden
Many of our guests love Padma Resort Legian for the well-manicured gardens. Not only they are pleasant sights to see, but they are also home to the birds and squirrels that you may have spotted during your stay. Not to mention the oxygen the plants provide us, and they are believed to be a stress reliever. Has anyone noticed that we have an extended land next door by the Presidential Suite? We couldn't be happier that we get to utilise the extra space to grow organic vegetables like bok choy, chilli, and corn. Fun fact – We have harvested up to 30kg of fresh home-grown bok choy last December, they were so green and fresh because we use house-made organic composting products. Come visit our little nursery when you stay with us!
Mineral Water with 100% Recycled Bottle
Our repeater guests may have noticed another new little change in the room. As of last year, we have replaced the previous our mineral water bottles with the the 100% recycable ones. These nicely designed bottles use no added labels which means more plastic waste can be reduced. We really do hope that our little contribution can later bring a positive impact to the environment. On a side note, we now also provide complimentary infused water in a few spots by the pool for our guests to refresh after a day in the sun (in case you forget to bring your reusable bottle) 😉
If You Can't Reuse, Recycle
Padma Resort Legian is also known as a one-stop destination for meetings, conferences, and various events. As of last year, we have removed single-use plastic bottles' existence in meetings with reusable glass bottles. It is a very small part but we believe it is a good first step in creating a healthier environment. What do you think of us providing refillable house water in the meeting rooms?
We are commited to keep learning, improving and developing our sustainability programs for a better future. Every little action, and every litte thing matters. And we thank you, all of our wonderful guests, for supporting, and for taking part in our green campaigns.
Happy holiday and have a pleasant stay!