Bali needs no further introduction when it comes to its stunning sunset. It has become a must-do activity for travellers who visited the island.
There are plenty of ways to enjoy the Balinese sunset, from watching it on the beach or the hills; from marvelling it with hundreds of other fellow travellers to doing it the local's way.
Scroll down to find inspirations for your next sunset situation…
Kuta Beach
Image source: @esmeraldaattema
The popular Kuta Beach is notorious for Bali first-timers, but we couldn't agree more as the sunset here is quite a scene to witness. It is perhaps the "Godfather" of beach and sunset of Bali that goes way back when tourists started coming to the island in the 1960's.
Image source: The Professional Vagabond
If you opt for sunset in Kuta, then you're in for a treat (or even several treats!). The beach is located near to all the island's exciting hubs, such as Beachwalk Mall, where you can go for a quick window shopping.
And just further down the road, you will find yourself at Bali Sea Turtle Society. The non-profit organisation mission is to protect and preserve sea turtles along Balinese coastline. Drop by prior to your sunset session and learn how you can help save the ocean's oldest and friendliest creatures.
Image source: Bali Sea Turtle Society
Berawa Beach
This is the spot to be if you want to watch Balinese sunset like the locals. Those living on the island love to throng at Berawa Beach during the golden hours with their friends, families, and some even with their four-legged furry companions. It also makes a great spot for surfing, especially those at the intermediate level, thanks to its rocky reefs anchor that anchors the sand.
Since it isn't as crowded as Kuta Beach, you might find locals living on the island doing their favourite past-time, picnic on the beach while waiting for the sunset. This can also be added on your to-do list. But don't forget to clean up afterwards and not to leave any litter behind to help keep Bali beaches clean.
Amed Sunset Point
Image source: Bali Fun Diving
For those who wish to escape South Bali's commotion, then Amed in East Bali is the answer. Travel back in time and experience how Bali used to be many years ago.
The area is known to be diver's paradise, but sunset in Amed is also unbeatable, especially from Amed Sunset Point. It's a corner perched on the hills of Amed, in which you will get to observe the sun setting against the mountain.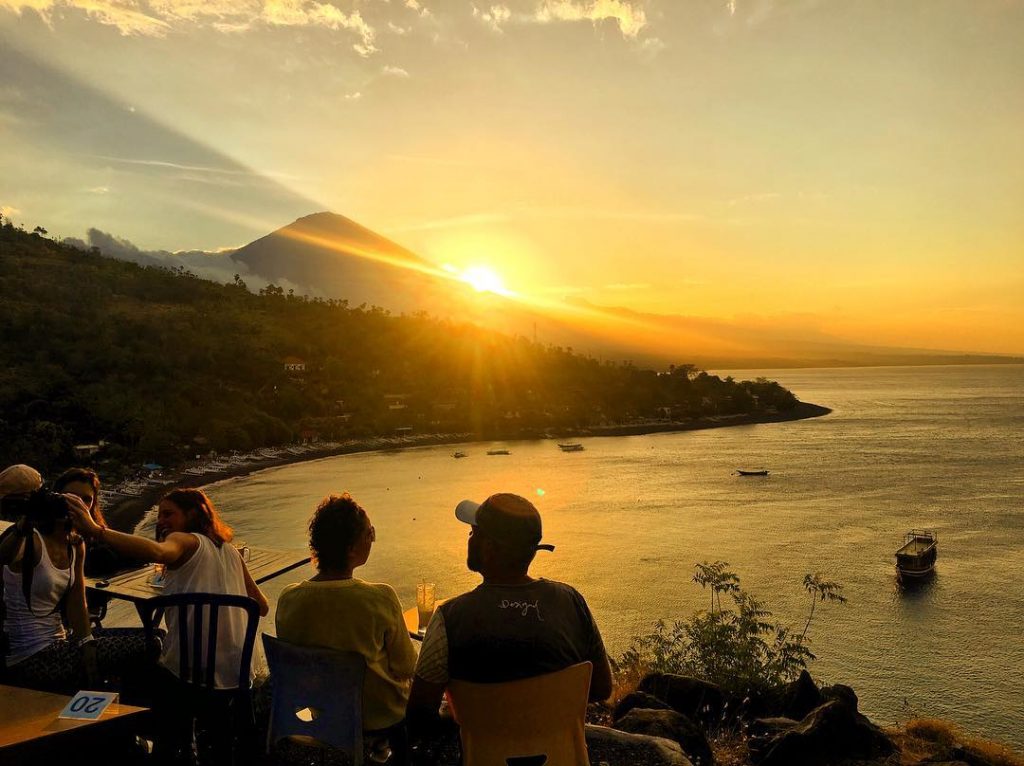 Image source: @lady lee
Uluwatu Temple
It's a no-brainer that Uluwatu Temples is one of the most visited temples in Bali. Situated on the hill of Uluwatu, it has also become a favourite sunset destination. With a small fee to enter, you can explore this holy site during its glorious golden hour.
To add to the already dramatic Uluwatu sunset, don't miss the legendary Kecak Dance at the temple's amphitheatre with the sun setting in the backdrop.
Image source: @jayasudadio
Jimbaran Bay
Known as the fishing village, Jimbaran is one place to get the freshest seafood on the island while marvelling at the sunset.
If you don't feel like having a sit-down sunset dinner, try local's favourite sweet or salted roasted corn. You can find it sold by pushcart vendors roaming around on the beach. It makes a great option for vegetarians too!
Padma Beach
Last but not least, our very own Padma Beach makes a wonderful place to catch the sunset. In addition to that, it offers a calmer ambience to its neighbouring Kuta Beach.
The plus side of spending your sunset moment at Padma Beach, is that you'll be steps away from the comfort of your room here at Padma Resort Legian. And there are always S.K.A.I. Beach Club or the (adult-only) infinity pool to choose from for a sundown lounging session while sipping on a cocktail or two…
Photo source: @yuki.luckhappy
Now it's your turn to tell us what's your favourite place to see the sunset in Bali!