Written by Tasneem Aldalrahim Alsiddig
The golden white coastlines that shape Bali are the paramount of the Bali experience. We want you to sight and indulge only the most spectacular beaches Bali has to offer within close reach of our grounds.
Touching Padma Resort's S.K.A.I Beach Club and right off our infinity pool, is what the local residents like to call, the Padma beach. It is an ideal beach for a walk in the sand or along the beachside road – filled with restaurants and bars with something satisfy all palates – all day late into the evening. Surfers, Padma beach is where to be, to avoid having to contend to catch your dose of waves.
Padma Beach
Image source: www.semetonnews.com
About 10 minutes walk towards Kuta, is Bali's most well-known Kuta Beach. Here, you can catch Bali's fabled sunsets after a day packed with a wide selection of water activities and swimming or sun baking amid big masses as it is open to traffic. Nightfall, the music loudens as restaurants and bars transit into a nightlife of colour and crashing waves that you can enjoy late into the night.
Kuta Beach
Image source: www.bali-holiday-deals.com
Further down west, there is Double 6 beach. You know you have reached Seminyak's beaches when you see colourful umbrellas from the beach front cafes and restaurants. If you continue walking towards Petitenget, there's Petitenget Beach, still in close distance to Seminyak neighbourhood where Bali's fashion statements are being made, home to the topmost fashion boutiques and dining scene renowned for a tang of international chefs preparing universal dishes.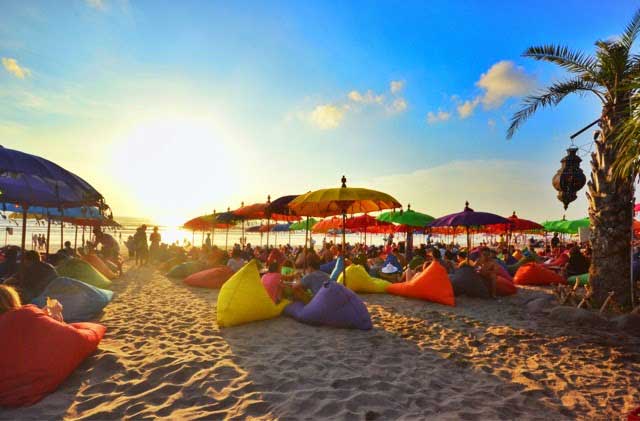 Double 6 Beach
Image source: www.telusurindonesia.com
Set between Seminyak beach and Tanah Lot, of black sands, Canggu beaches are surfer reveries. The surf camps scattered reflect Canggu as the ideal surfing destination with surf fortunes, surfer's follow to all corners of the globe. The must-visit beaches in Canggu are Berawa Beach, BatuBolong Beach, Echo Beach, and Pererenan Beach.
Berawa Beach
Image source: www.media-cdn.tripadvisor.com
A little further up to the "Bukit" area (the hills), there are a number of beaches in the Uluwatu and Nusa Dua areas that are perfect for those in search of tranquillity in a seemingly extraterrestrial space or for those in love with the surf life as some of the beaches promise great sets of waves. Expect a 15-20 minutes' drive from Padma Resort Legian to Uluwatu and Nusa Dua suburbs and little adventures finding the beaches as some of the are hidden and quite challenging to find, but the views are definitely worth the trip!
Padang Padang Beach
Image source: www.ouradventureland.com
A blend of temples and sand is becoming a rare find in Bali's frenzied and rapid growth. Nusa Dua Beach, still houses many temples – Pura Jagatnatha and Pura Geger to name a few – making it a distinguished beach that incorporates Balinese culture and pleasure.
Pura Geger
Image source: www.static.asiawebdirect.com