Bali has become one of the most popular destinations for holiday seekers; from single travellers, couples, to families. With the school holiday period happening, many of you might consider travelling with the whole troop. As fun as it sounds, some of you would understand the struggles of having little ones on the trip.
If you're staying with us on this Bali trip, throw your worries out the window because guess what? Padma Resort Legian is where you'd want to be with the kids. It is an absolute playground for the little misses and misters and here's why.
Kids Swimming Pool
How many of you have read our previous article about The Five Pools We Have in the Resort? Now that we got you excited about it, how about we tell you that amongst the five, there are one kids pool with slides, one dedicated kids section and the Main Pool, one shallow area for kids in the Lagoon Pool….and (yes, theres one more) our infinity pool at S.K.A.I. Beach Club is also open for kids.

Take a look to our Family Pool within the Family Block. Featured with large and spiral slides, the swimming pool is situated right next to Family Block make it easier for your and your kids to play.
Wolly Kids Club
Our Wolly Kids Club is the perfect sanctuary for kids to play, dance, watch movies, play games, and dine, all in one place. Your beloved kids can also interact and make new friends here. Our attentive staffs will always get you covered to take a very good care of your kids.
Check out Wolly Kids Club daily schedule here to plan your kids' activities during your stay with us, there are angklung class, hula hoop contest, bracelet making and many more.

For the future master Chefs, here at Padma Resort Legian, we also have Kids Cooking Class where they can get creative and learn cooking skills from our our dedicated Chef. For the hungry little chefs, there's an extensive Kids Menu in all of our restaurant outlets. Check out the full Kids Menu here.
Kids Spa
We take care of your kids to the next level for their wellness. Relax for a while from routines or take some break after cheerful play all day long at The Spa with our Kids Spa treatments. Our therapist know well how spoil them with comfortable massage and soothing aromatherapy. Check out our Kids Spa menu here. For more mother and daughter quality time, try the combined treatments for both, Blissful Bonding.
Kids Foam Party
We know that kids love to go out and play, so make sure they don't miss out on our Foam Party, every Tuesday at the Main Pool. See you and don't forget to bring goggles and your swim wear, kiddos! Be ready to sing a long to your favourite Disney tunes and dance around in a bubbly dance floor.
This activity is supervised by Wolly Kids Club staff.
Splish Splash Mermaid Fun!
Do you kids love The Little Mermaid movie? Have you seen them imagine themselves as the little mermaid? Here at Padma Resort Legian, we can make their imagination come true with Splish Splash Mermaid Fun. We prepared special costume of little mermaid by our lagoon pool for them.

Every Sunday at 10 AM or 3 PM, head to lagoon pool where your kids can dress up just like little mermaid while enjoying their meal. Rest assured, our staffs will take care of your daughter and will always monitor them during swimming with mermaid costume .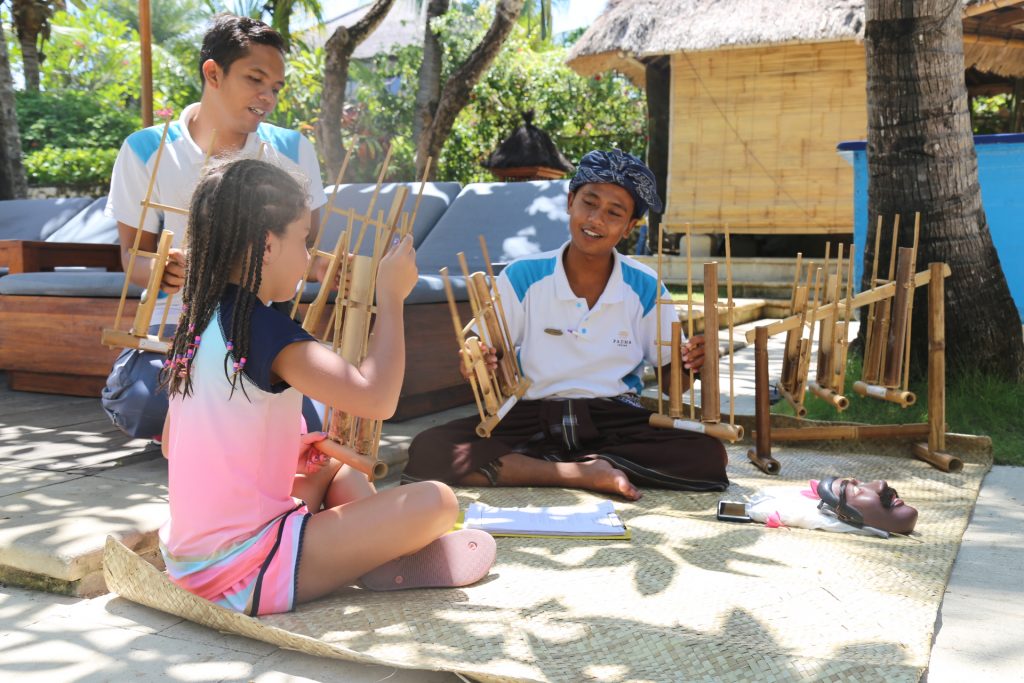 Experience Culture
While in Bali, get involved with series of traditional activities that will get your kids close to the culture of Bali and Indonesia. Play traditional music instrument or watch traditional dance performance with our staff that will be excited to teach them step by step.

The fun doesn't end here – there is a Bahasa Indonesia lesson every Friday at Wolly Kids Club where kids can learn a useful Indonesian phrases and surprise their classmates with a new languange skill when they're back to school from the holiday 😉
There are just a few of so many fun activities for the little guests we have here at Padma Resort Legian, all smiles and laughters guaranteed! From all highlighted activites above, which one do you think your bub is the most excited about?
Share it by give comments below!